Oakland International Roller Canary Club
Established 1923

---
Club Objectives:
To develop and advance the Roller Canary fancy.
To create a better understanding of, and demand for the Roller Canary.
To encourage members in scientific breeding.
To hold a song contest annually at which birds raised and owned by club members and non-members can be adjudicated by an official Judge. The 100 point song standard shall be used.
To promote the welfare and prosperity of the club.


The votes are in and we have won the Golden Web Award! This is a yearly award bestowed upon us by the International Association of Web Masters & Designers: "In recognition of creativity, integrity and excellence on the Web." Wow!
---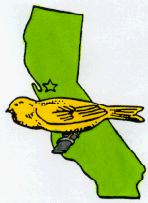 Club Meeting:
We meet at 2 p.m. on the third Sunday of January and February, fourth Sunday of the months of January through November at:
448 Dowling Blvd
San Leandro, CA 94577
(510) 914-2525
We have decided to also have online join.me meeting access so that everyone across the world could join us from the comfort of their livingroom through their computer or smartphone. We will be doing this to include more of our members worldwide in our meetings and discussions. The specifics of the meeting are:
Join the meeting: join.me/spbillmire
To dial in by phone:
United States - San Francisco, CA
+1.415.594.5500
Conference ID:
508-215-694 #
If anything changes, I will update the information here so stay tuned to our website and check it for details of the next online meeting.
Club dues are $25 per year and may be paid to the OIRCC Treasurer Carol Tucker, 610 Pebble Drive, El Sobrante, CA 94883. Phone: 510-356-3230.
email: happysongdwt@att.net

Closed aluminum bands may be ordered with a minimum of 25 for $25.00 plus $3.50 shipping to members, non-members pay an extra dollar so you might want to consider joining as well. Order bands from: Carol Tucker, 610 Pebble Drive, El Sobrante, CA 94883. Phone: 510-356-3230. You can also request bands by email at: happysongdwt@att.net
---
OIRCC Roller Canary Forum: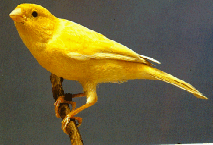 The Roller Canary Forum is published by the Oakland International Roller Canary Club to improve the advancement, breeding, and exhibition of German Roller Canaries. Hopefully it will encourage the promotion of the fancy and instruct our members who are not able to attend our regular monthly meetings. The opinions of the writers do not necessarily reflect the opinions of the Club nor its officers. We encourage all members and readers to feel free to send in comments, questions, and any articles they would like to see printed. Judges, Master Breeders, Champion, Amateur, and Novice Breeders of Roller Canaries are cordially asked to contribute articles for publication. Please send us your ideas, articles, questions, comments, or criticism about the content provided in our Web site and in our Roller Canary Forum to jpagrella@comcast.net. (He is our editor).
---
2018 OIRCC Club Calendar:
Jan 21 Club Meeting.
Feb 25 Club Meeting.
Mar 25 Club Meeting.
Apr 22 Club Meeting:
May 27 Club Meeting.
Jun 24 Club Meeting.
Jul 22 Club Meeting.
Aug 26 Club Meeting.
Sep 23 Annual Club BBQ Meeting
Oct 28 Club Meeting.
Nov 25 Club Meeting.
2018 Song Contest Info:

To be determined. Stay Tuned for more information
The Coral Reef Inn and Suites
400 Park Street, Alameda, CA

For more information or to obtain an entry form contact:
Justin Agrella, President at: jpagrella@comcast.net

---
It is Here!
Do you ever wonder where all of the good information is on breeding, raising and training Roller canaries is? Do you ever wonder where you can find good books describing the song of the Roller Canary? Well, aside from getting all of this great information from our newsletter, The Oakland International Roller Canary Club
NOW has it's Classic Canary Book Store Open! One book starts it off and we will add titles to the list as our inventory is added to. The List starts below with a classic book and a record to go with it.

Available for purchase now:
Roller Canary Handbook by Judge Haig Sarkisian
This is an 88 page book that has many color pictures of canaries at various ages. Written by Haig Sarkisian in 1983 it was self published and includes a red record of Roller Canary song. The book deals with breeding training and caring for your Roller Canary. These books are brand new with new records included. $10 plus shipping. Email jpagrella@comcast.net for payment and details. Yes, this is the book entered into the Library of Congress!
---
Documents,
Information, Special Topics:
---
Canary Web Links:
---
---
---
Questions, Comments or Ideas? Please feel free to sign in to our Guestbook. Your comments are important to us.
---
Last modified:
April 24, 2018
Like what you see on our website? Why not recommend it to a friend?
---
The material shown in this web site may not necessarily reflect the views of the Club Officers or members of the Club. We want to provide a non-judgmental vehicle for free expression of individual views and experiences in the Roller Canary fancy. We may learn from information with which we may disagree. There are many ways to raise Canaries that work, some better than others. The bottom line is to enjoy the birds as we work to produce the healthiest and most pleasant sounding birds we can. We encourage your questions and comments.

Questions? Comments? Please e-mail to: oircc@geocities.com
---